Bianco-Valente, C'è una luce che non si spegne mai, 2019, La Casa di Vetro, Forcella, Napoli
Intervento di arte pubblica: scritta in vetro cotto a gran fuoco / Public art intervention: burnt glass writing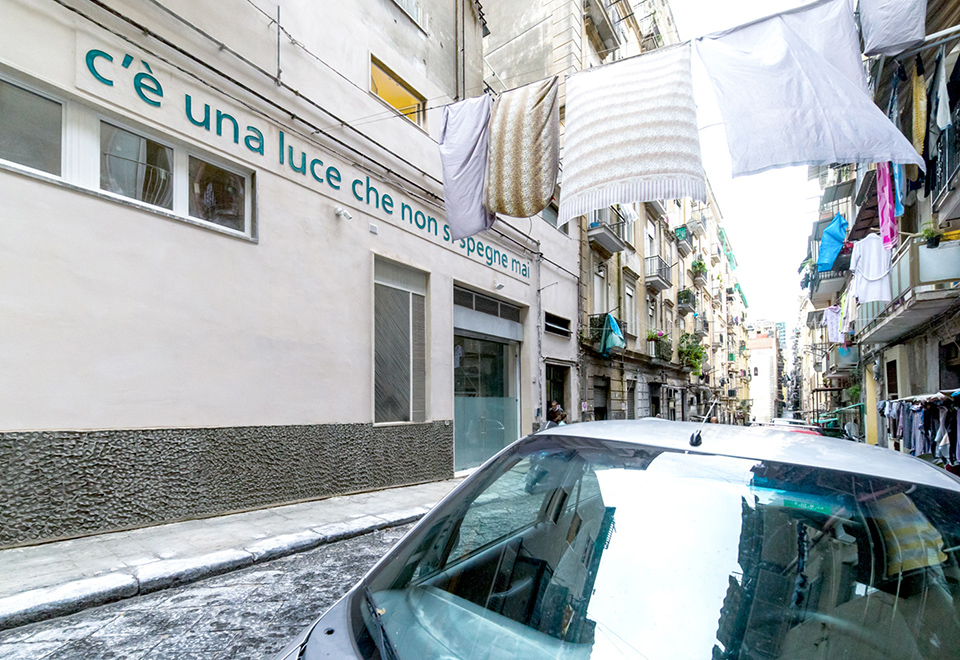 Sulla facciata dell'ex vetreria di Via delle Zite siamo intervenuti con un'installazione permanente appositamente pensata per La Casa di vetro, la nuova sede operativa dell'Associazione Amici di Carlo Fulvio Velardi che da anni porta avanti un prezioso lavoro sociale che coinvolge i bambini e gli adolescenti di Forcella, una periferia urbana nel pieno centro della città di Napoli.
C'è una luce che non si spegne mai è una scritta in vetro lunga 10 metri. Riprendendo nei materiali l'antica vocazione dell'edificio abbiamo immaginato un messaggio aperto alla comunità.
Il ricorso al dialogo e alla scrittura stessa che diviene opera è frequente nel nostro lavoro, crediamo che il linguaggio sia allo stesso tempo la più raffinata forma di interazione sviluppata dall'essere umano e un dispositivo evocativo capace di condurre il pensiero oltre il mero significato, suscitando memorie, suggestioni, sentimenti inaspettati.
Le molteplici interpretazioni che gli abitanti del quartiere e i passanti assoceranno all'installazione saranno parte dell'opera stessa, che si pone come connettore tra l'interno e l'esterno della Casa di vetro, rivolgendosi con delicatezza a chi è dentro quanto a chi è fuori e prestandosi in tal modo a diverse forme di appropriazione.
La nostra ricerca è, infatti, da sempre incentrata sulle relazioni con gli interlocutori e lo spazio pubblico. C'è una luce che non si spegne mai diventa così un'opera in grado di farsi ambizione, speranza, incoraggiamento per le ragazze, i ragazzi e le famiglie che varcheranno la soglia della Casa di vetro a Forcella.



We imagined a permanent installation for the facade of the former glassworks in Via delle Zite and specifically designed for La Casa di vetro (House of glass), the new headquarters of the Associazione Amici di Carlo Fulvio Velardi, which has been carrying out for years a valuable social work involving children and adolescents in Forcella, an urban suburb in the heart of Naples. There is a light that never goes out is a glass writing 10 meters long. Evoking through the materials the ancient vocation of the building we imagined a message open to the community.
The use of dialogue and writing itself that becomes an artwork is frequent in our work, we believe that language is at the same time the most refined form of interaction developed by the human being and an evocative device able to lead the thought beyond the mere meaning, arousing memories, suggestions, unexpected feelings.
The multiple interpretations that the inhabitants of the neighborhood and passers-by will link to the installation will be part of the artwork itself, which acts as a connector between the inside and the outside of the Casa di vetro, delicately addressing to people inside as well as to people outside and thus lending itself to different forms of appropriation.
Our research has in fact always focused on relationships with the interlocutors and public space.
There is a light that never goes out becomes an artwork capable of becoming ambition, hope, encouragement for the girls, boys and families who will cross the threshold of the Casa di vetro in Forcella.


Backstage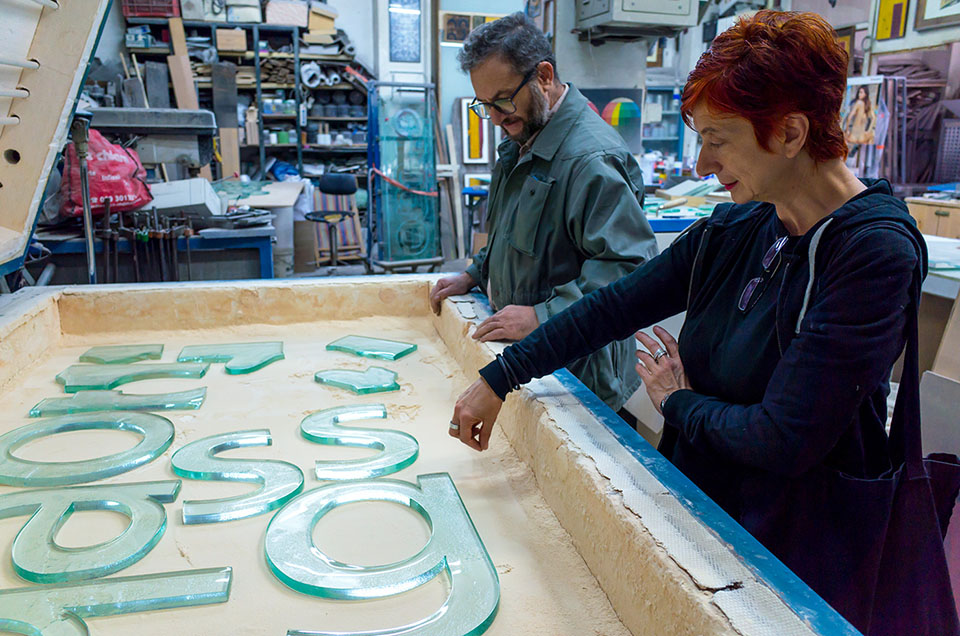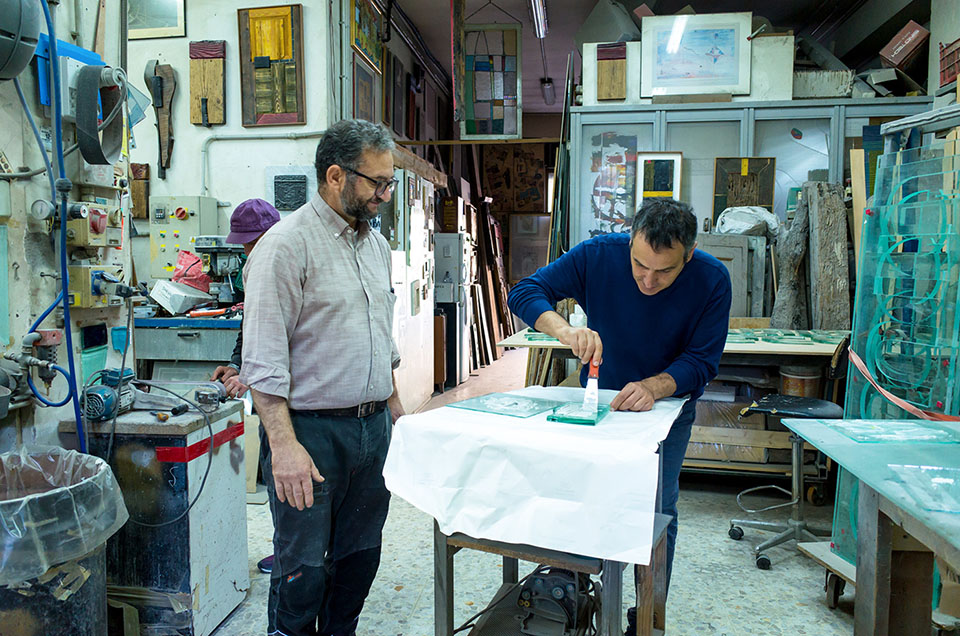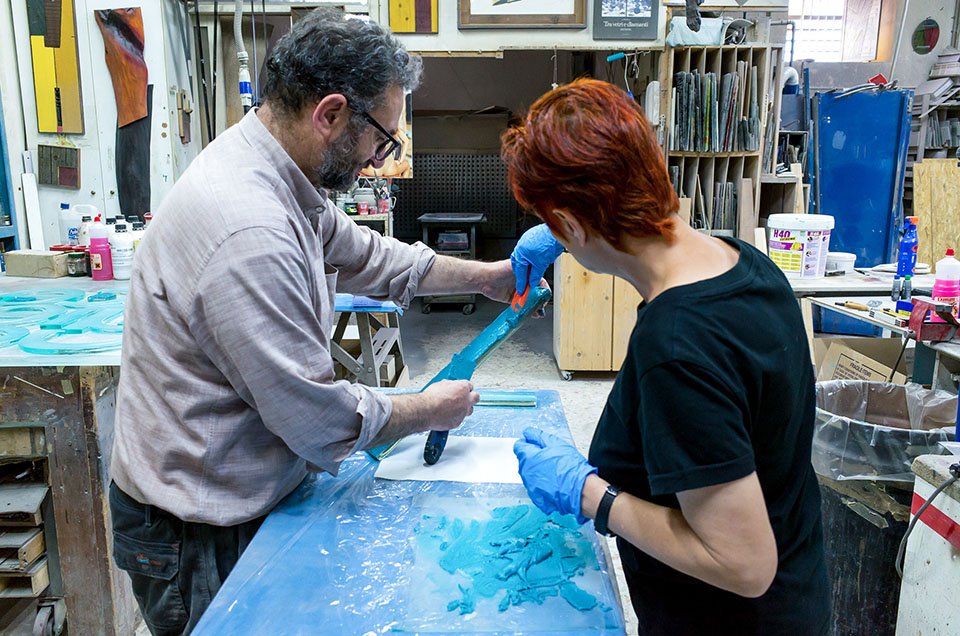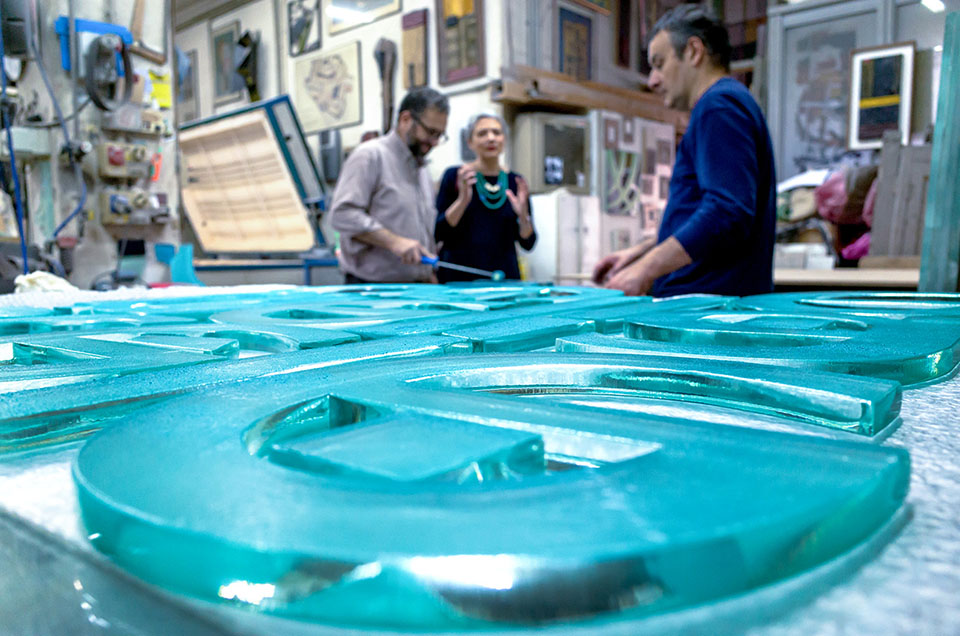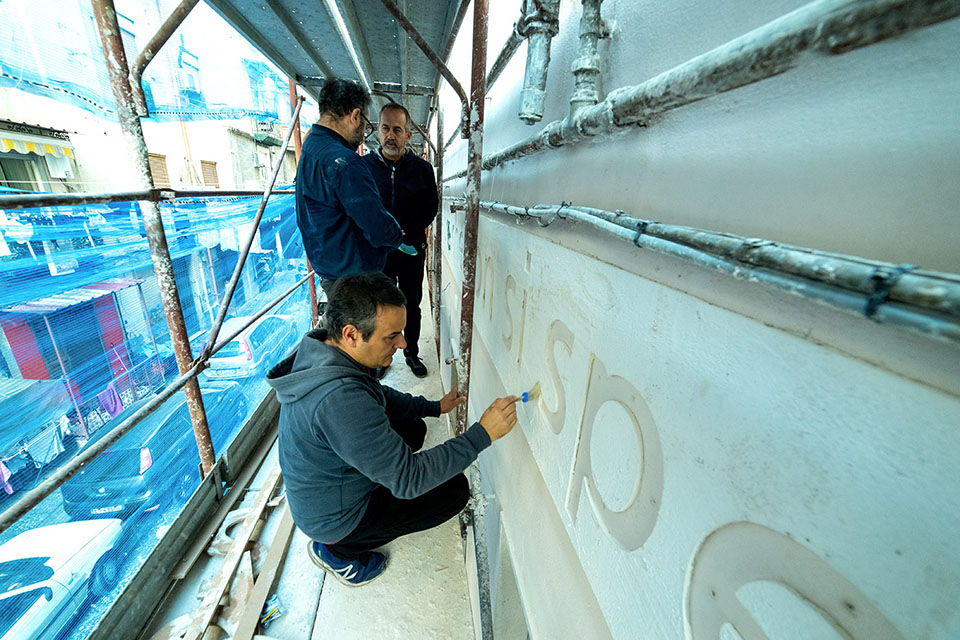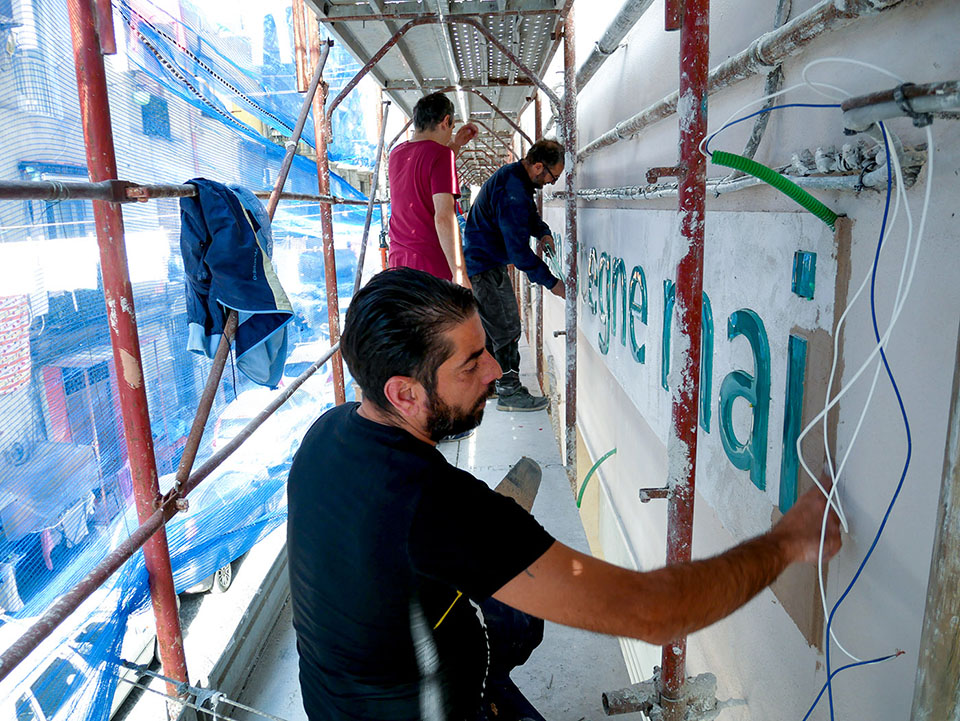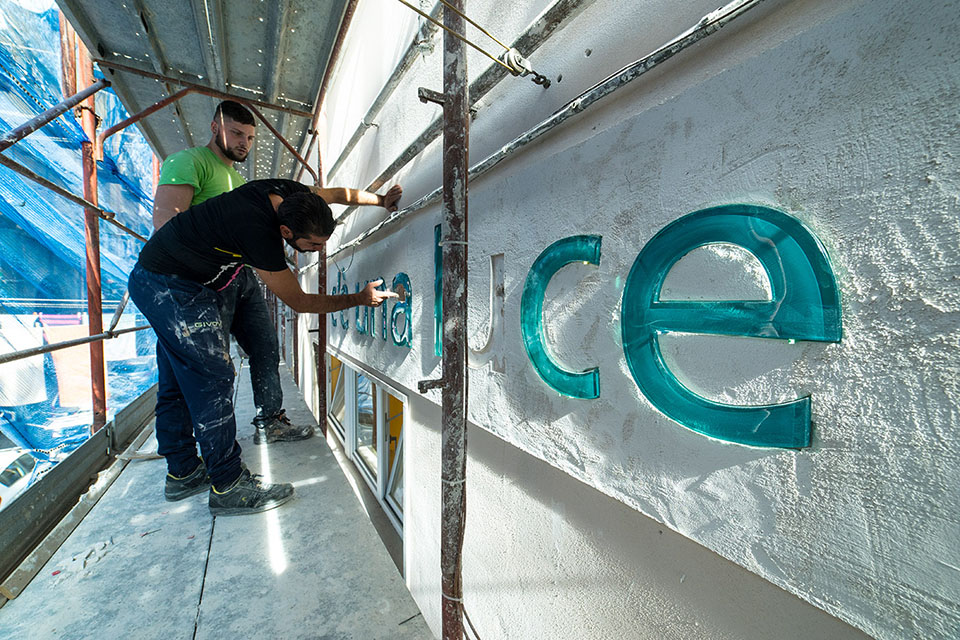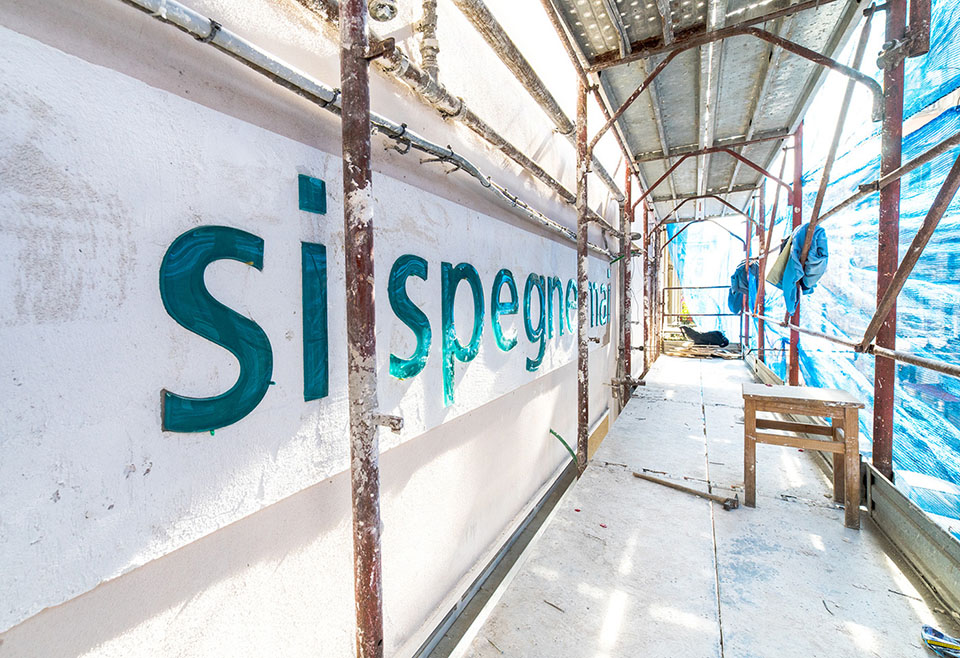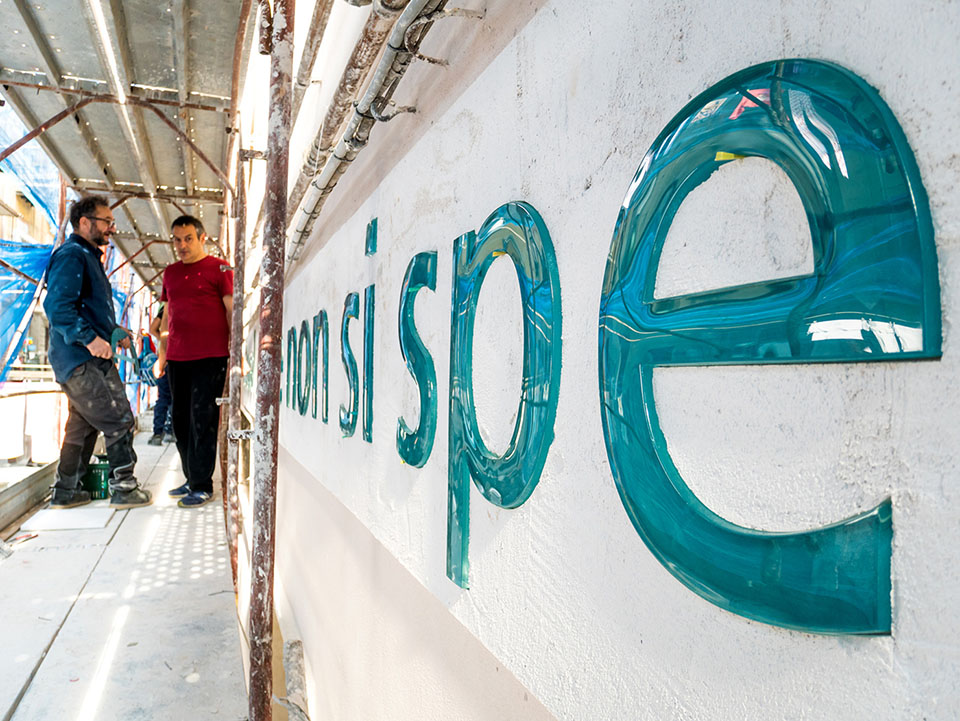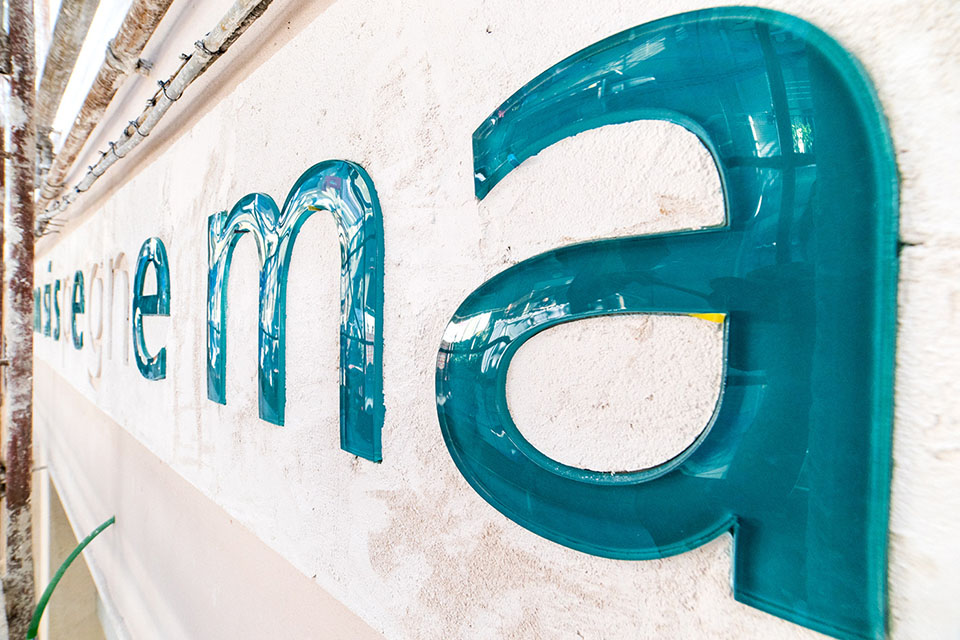 home | works | texts/testi | video | contacts/contatti