Bianco-Valente presentano un progetto basato sull'osservazione delle relazioni tra le persone, e tra queste e i luoghi e i linguaggi. I molti autori (e vettori) di questo viaggio nell'immagine come metalinguaggio sono stati artisti, studenti, viaggiatori.
Il progetto è stato pensato espressamente per questa mostra e si è rivolto agli studenti e allo staff della Srisa, fino al coinvolgimento di un cospicuo numero di giovani artisti attivi a Firenze, e alla partecipazione di amici, studiosi e artisti affermati.
A ognuno è stato chiesto di scrivere un breve commento descrittivo di un acquerello o di dipingere un acquerello che illustrasse un testo che gli era stato sottoposto. Ogni volta senza entrare in contatto con i passaggi precedenti, ignorando di quanti transiti l'oggetto della sua interpretazione sia il frutto.
Le opere del duo artistico nascono sempre come sintesi di un processo interrogante, che si irradia dagli autori per coinvolgere diversi interlocutori, lo spazio, gli strumenti di rappresentazione e i dispositivi di identificazione e di riconoscimento dell'appartenenza. In forza di questa vocazione tutti i loro lavori, anche quelli più formalmente compiuti, mantengono il profilo della stratificazione che li ha creati, e lasciano leggere la complessità di sguardi e di azioni che sono intervenuti nella loro composizione. Che si tratti di mappe, di narrazioni visive e verbali, di interventi fisici sull'architettura e sul paesaggio, Bianco-Valente agiscono seguendo un minuzioso percorso di riscrittura, sotto la pelle delle cose e molto più in là della loro superficie.
Pietro Gaglianò

Con i testi di:
Lorenzo Acciai, Alessia Alessandri, Pamela Barberi, Laelle Busch, Francesco Campidori, Primavera Contu, Daria Filardo, Anna Gioia Gaglianò, Pietro Gaglianò, Lucia Giardino, Martina Grifoni, Matteo Innocenti, Zeuler Lima, Marta Pierazzuoli, Gino Pisapia, Guia Pozzi, Lorenzo Pubblici, Maria Ramirez, Alexandra Rojas, Vittorio Santoianni, Barbara Selvi, Lindsey Stouffer, Abigail Upperman, Pino Valente. Con gli acquerelli di:
Fabrizio Ajello, Albien Alushaj, Ida Barbati, Marco Biagini, Francesco Carone, Ennio Celli, Carlo Colli, Matteo Coluccia, Sascha Connelly, Gaetano Cunsolo, Francesco De Tommaso, Elena El Asmar, Arber Elëzi, Serena Fineschi, Maria Gärtner, Stefano Giuri, Kaelyn Haggerty, Lilit Hayrapetyan, Meri Iacchi, Dhimitraq Kote, Lori Lako, Francesco Lauretta, Qiyuan Liu, Irene Lupi, Arian Ozmaei, Marika Marchese, Anna Mavkevich, Manuela Mancioppi, Mona Mohagheghi, Nadia Neri, Angela Nocentini, Massimo Orsini, Luca Pancrazzi, Pantani Surace, Paolo Parisi, Olga Pavlenko, Daniela Pitrè, Marco Raffaele, Ludovico Riviera, Manuela Ruga, Patricia Silva, Andrew Smaldone, Loredana Valoroso, Eugenia Vanni, Regan Wheat, Jonida Xherri, Virginia Zanetti.
SRISA Gallery of Contemporary Art - Santa Reparata International School of Art
Via San Gallo 53r, 50129 Firenze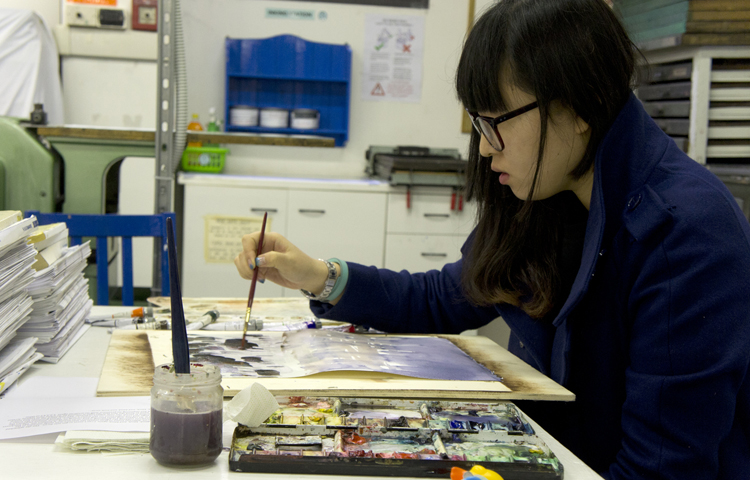 Bianco-Valente, Campo visivo
curated by Pietro Gaglianò
coordinated by Francesca Biagini
SRISA Gallery of Contemporary Art, Florence - from January 30 to March 10, 2014
Campo Visivo, "field of vision", explores our visual horizon and questions what lies beyond it. The investigation doesn't define the boundary but tests the frailty of its interpretive value; it is this search that helps us understand the connection between our visual horizon and what lies beyond it. The tools used to investigate this link are both visual and verbal.
The "campo visivo", "field of vision" (visual horizon) refers to the original images that began the process of interpretation. It is the content of these images and more importantly the complex journey that brought these images into the hands of the artists that is of significance to the process of interpretation.
The visual landscape is fractured into braches and revisions that cover the walls of the exhibition space. In sprawling succession, the alternation of the text and images painted in watercolor, distend over the space obscuring further and further the original images until there is nothing left but the thread that binds them. These new images are bound to the original in a necessary evolution that ponders the visual multiplicity inherent in each of the original image. The visual landscape is a map, a constellation, of those temporary relationships of which they are the sum.
The authors of this metalinguistic journey are the artists and students. The project was developed expressly for the SRISA exhibition and brought in the participation of the student and staff of the school as well as the young Florentine artists, friends, scholars and established artists in the community. Each participant was asked to either write a short passage describing one of the images or paintings or to paint a watercolor that illustrated the text that was given to them.
Pietro Gagliano'

Texts by:
Lorenzo Acciai, Alessia Alessandri, Pamela Barberi, Laelle Busch, Francesco Campidori, Primavera Contu, Daria Filardo, Anna Gioia Gaglianò, Pietro Gaglianò, Lucia Giardino, Martina Grifoni, Matteo Innocenti, Zeuler Lima, Marta Pierazzuoli, Gino Pisapia, Guia Pozzi, Lorenzo Pubblici, Maria Ramirez, Alexandra Rojas, Vittorio Santoianni, Barbara Selvi, Lindsey Stouffer, Abigail Upperman, Pino Valente.
Watercolors by:
Fabrizio Ajello, Albien Alushaj, Ida Barbati, Marco Biagini, Francesco Carone, Ennio Celli, Carlo Colli, Matteo Coluccia, Sascha Connelly, Gaetano Cunsolo, Francesco De Tommaso, Elena El Asmar, Arber Elëzi, Serena Fineschi, Maria Gärtner, Stefano Giuri, Kaelyn Haggerty, Lilit Hayrapetyan, Meri Iacchi, Dhimitraq Kote, Lori Lako, Francesco Lauretta, Qiyuan Liu, Irene Lupi, Arian Ozmaei, Marika Marchese, Anna Mavkevich, Manuela Mancioppi, Mona Mohagheghi, Nadia Neri, Angela Nocentini, Massimo Orsini, Luca Pancrazzi, Pantani Surace, Paolo Parisi, Olga Pavlenko, Daniela Pitrè, Marco Raffaele, Ludovico Riviera, Manuela Ruga, Patricia Silva, Andrew Smaldone, Loredana Valoroso, Eugenia Vanni, Regan Wheat, Jonida Xherri, Virginia Zanetti.
SRISA Gallery of Contemporary Art - Santa Reparata International School of Art
Via San Gallo 53r, 50129 Firenze